Share

Friday 03rd September 2021
Dunkirk (12A) + talk – FREE – Outside, not subtitled
Free
(No ticket required - First come first served)
8:00PM (Doors open 7pm)
OUTDOOR:
St George's Garrison Church, Woolwich
Bring something to sit on and whatever you need to stay warm and dry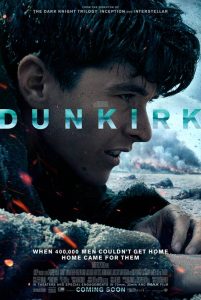 Runtime: 1h 47m
OUTDOORS – some seating will be available or you can bring your own picnic blankets. We recommend wrapping up warm and bringing a torch.
Doors: 7pm, Talk: 7.30pm, Film: 8pm
There will be a talk from military historian Clive Harris before the film.
BBFC Rating: 12A, for 'sustained threat, intense sequences, moderate violence, and strong language'. This means that any children under 12 must be accompanied by an adult to see the film in the cinema.
Starring "Its ensemble cast includes Fionn Whitehead, Tom Glynn-Carney, Jack Lowden, Harry Styles, Aneurin Barnard, James D'Arcy, Barry Keoghan, Kenneth Branagh, Cillian Murphy, Mark Rylance, and Tom Hardy." (Wikipedia)
All of our film screenings are free. No ticket needed, just turn up –  first-come, first-served.
Travel options for St George's Garrison Church, Woolwich
Detailed information is available on their page. The venue has a ramp for wheelchair users.

Other films screening on Friday 3rd September 2021
• A Bug's Life – 4.30pm – Shrewsbury House
• National Velvet – 7.30pm – Shrewsbury House