Share

Wednesday 06th September 2017
Deep End
Free
(No ticket required - First come first served)
8:00PM (Doors open 7.30PM)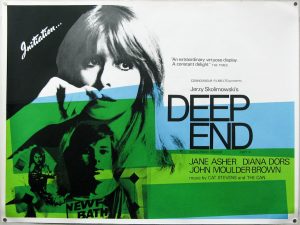 **CHANGE TO VENUE NOTED IN PRINTED PROGRAMME**
Deep End, Jerzy Skolimowski's 1970 study of infatuation, gets a rare screening at Space @ 61, on Wednesday 6 September at 8pm.
The film tells the story of Mike (John Moulder-Brown), a 15-year-old drop-out, who becomes obsessed with his co-worker (Jane Asher) at a North London swimming baths.  By exposing a steamy side of British suburban life, Skolimowski's aim is to provoke.
Deep End is a film of tart black comedy and striking visual poetry, but for all its warmth, one is left with an impression of sadness. The hedonism of the Swinging '60s has given way to the drab reality of the early '70s.  The Grand Guignol ending remains one of cinema's most visually compelling.
The film features the song "Mother Sky" by the 'Krautrock' band Can, in an extended sequence set in Soho, and "But I Might Die Tonight", the Cat Stevens song, which is used at the film's finale.
The influential critic Andrew Sarris thought it measured up to the best of Godard, Truffaut and Polanski.  The BFI has acknowledged Deep End as "one of the greatest overlooked films of the 70s"
ABOUT THE VENUE
Space at 61 is set in a former cafe space just off Peckham Rye Park. Ideal for gatherings or as a blank empty space for filming, workshops, & exhibitions.