Share

Wednesday 01st May 2019
Daily Bread + 50 Years of Silence
Free
(No ticket required - First come first served)
6:00PM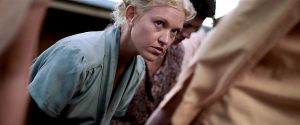 'Daily Bread' dramatises an episode from the book, '50 Years of Silence' written by the filmmaker's grandmother, Jan Ruff O'Herne.
Jan, a Dutch prisoner of war in Japanese controlled Indonesia, decides to help a starving child, with disastrous consequences for the whole camp.
'50 Years of Silence' tells the remarkable story of Jan Ruff O'Herne who was forced intoJapanese military sexual slavery in WW2. When elderly Korean survivors spoke out about their experiences in 1992 they began the original 'Me Too' movement. Jan knew it was time to tell the world, and her own family.