Share

Thursday 13th September 2018
Close Encounters of the Third Kind
Free
(No ticket required - First come first served)
8:00PM (Doors open 7pm)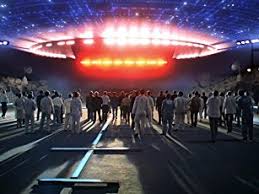 VENUE CAPACITY: 220
Join us at The Copleston Centre, Copleston Road, London SE15 4AN, Thursday 13th September8pm for a night celebrating Steven Spielberg's cultural phenomenon Close Encounters of the Third Kind. The lights in the sky have never appeared brighter than in this classic, with ground breaking special effects, Oscar winning cinematography, and THAT carefully sequenced five-note motif score.
 Courtesy of The Copleston Centre, the huge space there will let you take in all the grand celestial magic of this UFO blockbuster.
 Free event. No booking needed. Arrive early to secure a seat.
ABOUT THE VENUE: The Copleston Centre is a space for everyone in the heart of Peckham. Every week, more than 500 people join us in activities from pilates to community singing. This multi-cultural, multi-purpose community centre grew around Copleston Church, a joint Church of England and United Reform Church with a thriving congregation.