Share

Saturday 10th September 2022
PREMIERE: Change of Thought
Free
(No ticket required - First come first served)
6:30PM
INDOOR:
Peckhamplex Cinema
Premiere of a Peckham film exploring the relationship between local Southwark Police and Black communities. It has grown out of LET'S TALK, a four-year project exploring young people's attitudes to youth violence and knife crime and tells the story of three local teenage boys who from the edge of permanent exclusion end up training Met Police recruits in Stop & Search. This improbable transformation is brought about with the input of Elevated Minds and its CEO Doreen Sinclair-McCollin. Remarkable tales emerge, successes take shape and real possibilities come clear for creating sustainable change. Some of the testimonies are shocking and yet overall the film is positive.
A Community TV Trust Production.
The film will be followed by a Q&A chaired by the film's director, Chris Haydon, and involving Doreen Sinclair-McCollin, CEO of Elevated Minds and young people featured in the film; Bruce Houlder, CB QC DL, from Fighting Knife Crime London; Reggie Popoola, LB Southwark councillor for Nunhead & Queen's Road.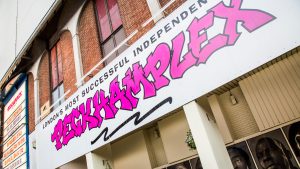 Voted Best Value Cinema by Time Out magazine and Love London Awards Best Entertainment Venue in SE15.
Independent six screen cinema established in 1994, screening mainstream, art house, foreign language and independent films.
Special events include concert films, pre-recorded plays and theatre productions, charity screenings and Q & A events with directors, actors and special guests.