Share

Wednesday 06th April 2016
Carnival of Souls
Free
(No ticket required - First come first served)
8:00PM (Doors open 7pm)
INDOOR:
St Giles Church – Camberwell
As the lone survivor after traumatic car accident, Mary rebuilds her life and becomes drawn to a mysterious abandoned carnival where she must confront her personal demons.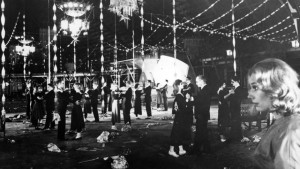 Mary Henry is a gifted young organist who is riding in a car with friends when it is forced off the road plunging from a bridge into the river below. Mary's friends die instantly, but miraculously she emerges from the water. But Mary is changed. She becomes increasingly detached from everyday life, displaying an emotional coldness which those she encounters attribute to grief and shock. But the nightmare world that Mary now inhabits is one of transition – between the living and the dead. Moving to Salt Lake City for a new start, she is haunted by the spectral presence lurking in the shadows of the derelict pleasure palace in town. She finds herself drawn inexorably towards the pavilion and it's demonic Carnival of Souls.