Share

Sunday 14th May 2017
Cameraperson
Free
(No ticket required - First come first served)
8:00PM (Doors open 7:15PM)
INDOOR:
Prince Regent Pub
Cinematographer Kirsten Johnson has shot movies including Michael Moore's Fahrenheit 9/11 (2004), Kirby Dick's The Invisible War (2012) and Laura Poitras's Citizenfour (2014), and in Cameraperson she has created an audacious and experimental collage-film, pulling together a mosaic of fragments from the 20 years that she has shot for other people, and also personal material about her own family. Join us at The Prince Regent on 14 May at 8pm for one of our favourite documentaries of 2016… it's one we're certain you won't want to miss!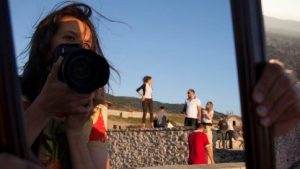 A boxing match in Brooklyn; life in postwar Bosnia and Herzegovina; the daily routine of a Nigerian midwife; a bustling Sunday market in Herne Hill (ok, we jest); an intimate family moment at home: these scenes and others are woven by Kirsten Johnson into Cameraperson, a tapestry of footage collected over her twenty-five-year career. Through a series of episodic contrasts, Johnson explores the relationships between image makers and their subjects, the tension between the objectivity and intervention of the camera, and the complex interaction of unfiltered reality and crafted narrative. A hybrid work that combines documentary, autobiography, and ethical inquiry, Cameraperson is a moving glimpse into one filmmaker's personal journey and a thoughtful examination of what it means to train a camera on the world.
Ever since we saw this one late last year we've wanted to bring it to the people of Herne Hill and our 2017 festival is the first chance for us to do so. If you like documentaries as much as we do you're going to love this one, so come on down to The Prince Regent on 14 May at 8pm for this unique and absorbing film.
Click here to see the trailer.