Share

Friday 01st April 2016
Rocks in My Pocket
Free
(No ticket required - First come first served)
8:00PM
INDOOR:
Institute of Psychiatry, Psychology & Neuroscience – Camberwell
A deeply personal, humorous and animated film about the effects of depression on several women in the same family.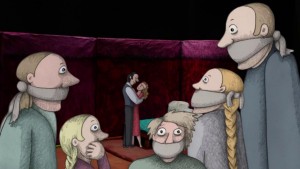 Rocks in My Pockets asks the question as to whether the historical and social factors of the past continue to effect the present and future generations.
Includes Q&A with director Signe Baumane live via Skype after the film.
In the late 1920s, Anna, a young Latvian woman, pretty and educated, falls in love with an adventurous entrepreneur, 30 years her senior. But with marriage comes great jealousy, and the entrepreneur hides Anna away in the forest, far from other men, where she bears him eight children. The Great Depression hits them hard. Then Latvia is overrun with invasions by the Soviets, then the Nazis, then the Soviets once again. Anna is a pillar of strength, defying the hardships, raising her young, teaching them survival secrets of the forest. But something inside her is terribly wrong.
Defying the stigma that silences so many, Signe takes us on a journey deep into her own depression where she looks to confront the family demons in this remarkable animated film.