Share

Monday 10th September 2018
Call Me By Your Name (15)
Free
(No ticket required - First come first served)
7:30PM
INDOOR:
St Andrew's Church Hall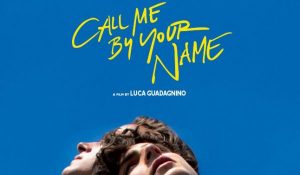 Join us for a screening of Luca Guadagnino's stunning coming of age romance 'Call Me By Your Name'.
Set in northern Italy in 1983, the film chronicles a romantic relationship between  17-year-old Elio Perlman (Timothée Chalamet) and and his professor father's 24-year-old graduate-student assistant Oliver (Armie Hammer).
Nominated for four Oscars (including Best Film) and four BAFTAs (also including Best Film), the film was well received by audiences and critics alike – a really special piece of work, that we're excited to screen.
This year, we'll also be screening a short film before each of our screenings, hand selected by our team of volunteers. We've chosen an eclectic bunch, lots of which we came across when we asked for submissions to our shorts night at the Broadway Theatre, back in June.
Tonight, we'll be showing you Garvey and Sayers (13 minutes) directed by Robert Greens. One of our favourite shorts from our night in June, the film explores how two friends got together.
FREE EVENT – No ticket required, first come gets the best seats