Share

Saturday 09th April 2016
Bugsy Malone
Free
(No ticket required - First come first served)
7:30PM
INDOOR:
Longfield Hall – Camberwell
The classic gangster story of Bugsy Malone told with the twist of an all child cast.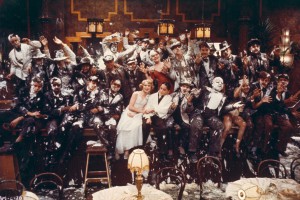 This is a sing-along fancy dress themed night. Turn up in your best outfits and you may well win a prize!
New York 1929. A war rages between two rival gangsters, Fat Sam and Dandy Dan. Dan is in possession of a new and deadly weapon, the dreaded "Splurge Gun". As the custard pies fly, Bugsy Malone (Scott Baio) falls for Blousey Brown, a singer at Fat Sam's speakeasy. His designs on her are disrupted by the seductive songstress Tallulah (Jodie Foster) who wants Bugsy for herself. Written and directed by Sir Alan Parker, this gangster musical satire is one of the best loved movies of the 70s. We will celebrate its 40th Anniversary with a sing-a-long screening and fancy dress evening at Longfield Hall.