Share

Friday 28th April 2017
Breaking Away – with Electric Pedals
Free
(No ticket required - First come first served)
8:00PM
OUTDOOR:
Folkestone Gardens
Bring something to sit on and whatever you need to stay warm and dry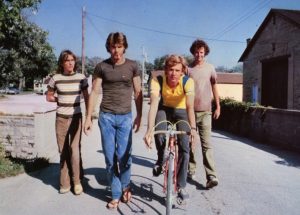 Breaking Away on the Quietway!
Join Deptford Folk in Folkestone Gardens SE8 next to Quietway 1 to watch Academy Award™ winner Breaking Away on a bike-powered outdoor screen from Electric Pedals.
Four friends come to terms with life after high school. When amateur cyclist Dave learns that the world's bicycling champions are always Italian, he attempts to turn himself into an Italian, driving his parents bonkers. Everything changes after an encounter with the Italian racing team which leads Dave and his friends to challenge the local college boys in the town's annual bike race.
Cycling enthusiasts and amateurs alike will be charmed by this classic comedy. Lewisham Cyclists will be running a Dr. Bike drop in repair session from 6pm. Local café, Festa Sul Prato will be serving a delicious pre-theatre menu and a sausage + drink deal for film goers. Have a wheelie good evening checking out Cycle Quietway 1, getting your bike fixed, eating tasty food and taking a turn bike-powering the film.
Wrap up warm, bring something to sit on and a blanket.