Share

Friday 24th May 2019
Bohemian Rhapsody
Free
(No ticket required - First come first served)
9:00PM (Doors open 7:30PM)
OUTDOOR:
Judith Kerr Primary School
Bring something to sit on and whatever you need to stay warm and dry
We'll be scaramouching and fandangoing on 24 May at Judith Kerr Primary School as we bring the 2019 Oscar winner Bohemian Rhapsody to our (previously) quiet corner of South East London. Dress up or dress down but get ready to tap your feet furiously… this film will not net you go. Ah, no, no, no, no, no, no, no. Mama mia indeed.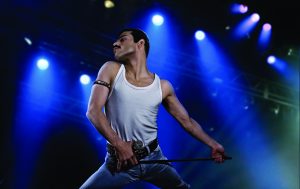 Bohemian Rhapsody wasn't released to widespread critical acclaim but after droves of us saw it at the cinema and the Academy anointed it with 4 Oscars we're pretty confident to stand behind Freddie and give this British release one of its first free outdoor outings. The feature isn't trying to be a comprehensive bio-pic or a full-spectrum consideration of Mercury's life, there are other places to go for that, however it does try to be a clearly and carefully oriented vision of Freddie's career. And it is mostly interested in the lead singer's private life in relation to a single big idea: success and its price.
The film is carried by the performance of its lead actor Rami Malek – who won the Best Oscar for the role – because he offers more than just a skilful impersonation, he offers an imaginative interpretation. Sure he re-creates Mercury's moves onstage, but the core of the performance is his intensely thoughtful, insight-rich channelling of the hurt, alienation and isolation even at the height of the star's fame. He, and the film, displays rock music as the one place where a total outsider such as Mercury could completely belong.
To pay our respects to Bohemian Rhapsody we haven't decided whether we're coming as Brian May, in a glorious regency-style wig, or Freddie Mercury, in a harlequin-lycra-suit, but what we do know is that we'll be at Judith Kerr Primary School on 24 May for this blockbuster. Let's just hope there won't be any thunderbolts or lightening. And with a big inflatable screen, it really will matter what way the wind blows!
See the trailer here!
As part of this year's Herne Hill Free Film Festival we are excited to be partnering with the Maudsley Charity, to help them promote positive change in the world of mental health and to make a real difference to the treatment of mental health in our area. We will be collecting donations at each of our screenings to support their local activities, so if you can, any money that you can spare would be greatly appreciated to help this wonderful charity continue the admirable work they do.