Share

Thursday 08th September 2016
Bike-Powered: Blues Brothers
Free
(No ticket required - First come first served)
8:00PM (Doors open 18:00)
OUTDOOR:
Copeland Park
Bring something to sit on and whatever you need to stay warm and dry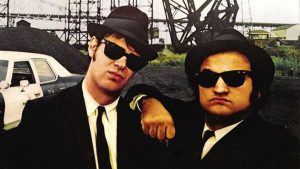 Settle down for a barrel of laughs with the original 1980's cult classic The Blues Brothers at Copeland Park on Thursday 9th September. In associations with PNFFF, Peckham Festival and Electric Pedals, this isn't any ordinary screening. Electric Pedals' ingenious concept of pedal powered cinema makes audience members take it in turns to keep it playing!
The Blues Brothers follows paroled convict Jake ans his brother Elwood through a story of redemption as they try and save the Catholic orphanage where they were raised from closure. They scheme to reform their R&B band and organise a performance to raise the funds to keep the orphanage going. However Neo-Nazis, a mystery woman, a country and western band and the police make this a little less simple…
There will be plenty of food and beverages available on the evening from food traders and a pizza bus!
After the film, head to the NINES for some real blues band action or to Rye Wax to continue the fun past midnight.