Share

Thursday 27th April 2023
Big Night
Tickets are required for this event - see below
8:30PM (Doors open 8 pm)
Our first screening of 2023 is FULLY BOOKED already. Sorry for any disappointment.
We have teamed up with Sole Luna, West Norwood's family-run Italian bistro, to blend delicious food with a great foodie film.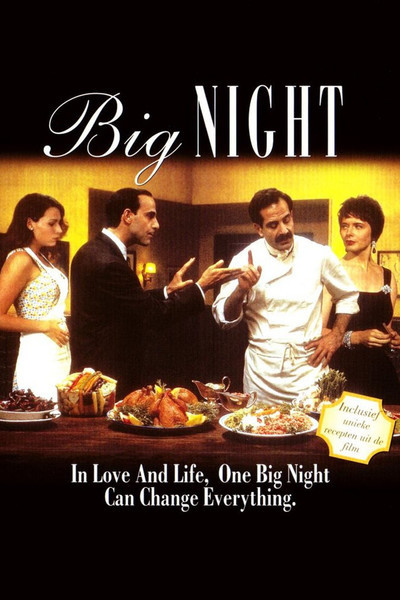 Big Night (1996, Cert 15) is based on the story of two immigrant brothers from Italy: a perfectionist chef, Primo (Tony Shalhoub) and a businessman, Secondo (Stanley Tucci). When they open their dream restaurant, Paradise, in 1950s New Jersey, Primo's authentic food is too unfamiliar for the local tastes and the restaurant struggles. So when famous Italian-American bandleader Louis Prima is scheduled to appear at Paradise, the two brothers decide to put all of their efforts into one important meal. It could decide the fate of their restaurant…
Stanley Tucci & Joseph Tropiano won a screenwriting prize at Sundance in 1996 for this critically acclaimed comedy-drama, which is currently certified 97% fresh on the Rotten Tomatoes site. (What would a demanding chef make of that?) It also stars Ian Holm, Isabella Rossellini and Minnie Driver.
This should be a 'Big Night' to remember – Sole Luna restaurant will be serving food and wine before the film starts.
Look out for further FFF events in West Norwood, which we'll confirm as soon as we can.
Buon Appetito!