Share

Friday 28th April 2017
BFG (Q&A with Mark Rylance)
Free
(No ticket required - First come first served)
7:30PM (Doors open 6:45PM)
INDOOR:
Rosendale Primary School – Herne Hill
Directed by Steven Spielberg and starring Mark Rylance, BFG is the hopscotchy adaptation of Roald Dahl's book about a young orphan named Sophie and the dream-blowing Big Friendly Giant. Since it was released in 1982 the BFG has sold more than 37 million copies worldwide and the Herne Hill Free Film Festival is delumptiously happy to be bringing this most recent film adaptation to Rosendale Primary School on 28 April at 7:30pm for the 2017 festival's opening film!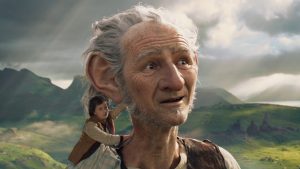 Mark Rylance, the BFG himself (thanks to more than a little technical wizardry and a green screen), a local resident and one of the greatest stage actors of his generation will be appearing for a Q&A after the screening. How whoopsy whiffling is that!
After discovering a mysterious cloaked figure blowing something through a trumpet-shaped object into a nearby bedroom window, the orphan Sophie is taken to Giant Land by the BFG. There she gets to learn about frobscottle, whizpopping and snozcumbers but also the lives of the BFG's less than friendly neighbours and their less than savoury activities. With Sophie's help the BFG manages to convince the Queen of England of the need to imprison the unfriendly giants and, with the British Army and Royal Air Force behind her (it would hardly be believable otherwise!), the Fleshlumpeater, Bloodbottler, Gizzardgulper and Childchewer all find themselves suspended from helicopters rotoring their way to an ucky-mucky end in a subterranean prison.
Come to Rosendale Primary School on 28 April at 7:30pm to celebrate the opening of the 2017 Herne Hill Free Film Festival and for the chance to meet the BFG himself, Mark Rylance, who will be answering questions from the audience after the film! We expect this to be a popular event so get there early to grab a seat… and you'll be glad to know that while refreshments will be available frobscottle and snozcumbers will only be featuring on the screen!
Click here to see the trailer.