Share

Friday 01st June 2018
Being Blacker + Director Q&A
Free
(No ticket required - First come first served)
7:30PM (Doors open 7:00PM)
INDOOR:
The Railway Tavern
As the final whistle blows on the Herne Hill Free Film Festival, you'll find us at The Railway, revving up for a bonanza night! Our powerful closing film about local Jamaican reggae hero Blacker Dread is introduced by its acclaimed director Molly Dineen, who'll also be doing a Q&A after the screening. Afterwards, when you'll be wanting to remain immersed in the warm world of Blacker and friends, you'll be able to do just that – all film-goers are invited to our wrap party at the Railway's sensational reggae, ska, funk, soul and 50s R&B night, with DJs from Venture FM.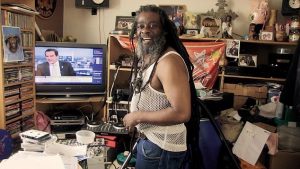 Being Blacker, Molly Dineen's come-back film after a 10-year absence, is an intimate portrait of Brixton's own reggae producer, businessman, father, son and community pillar, Blacker Dread. The film opens with his mother's funeral, the horse-drawn cortege parading through streets that local residents will know well. Molly's coverage of that day evolves into a long observational study of Blacker and his family, friends and community in South London, as they face the challenges of gentrification, inequality, poverty, racism and violent crime, along with a school system that is failing their children, in particular Blacker's young son.
Made with intimacy and wit (when Molly remarks that Blacker's friend Naphtali is driving like a getaway driver, he says 'I am a getaway driver'), the film takes us deep into Blacker's world as he has to close his legendary record shop in Brixton and face prison for the first time. Being Blacker offers a rarely-heard perspective on life in London today.
Click here to see the trailer!
As part of this year's Herne Hill Free Film Festival we are excited to be partnering with the Norwood and Brixton Food Bank, helping to raise awareness for this most worthy of local causes. We will be collecting food donations and spare change at each of our screenings so, if you can, any food or money that you can spare would be greatly appreciated to help this wonderful charity continue the admirable work they do in the local area. We will be tweeting information about urgently needed items so stay tuned on Twitter to @HerneHillFilm.