Share

Saturday 10th September 2016
Beasts of the Southern Wild & A Diary for Samuel
Free
(No ticket required - First come first served)
8:00PM (Doors open 19:30)
OUTDOOR:
Northfield House
Bring something to sit on and whatever you need to stay warm and dry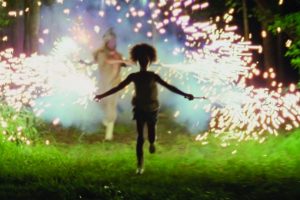 A Diary for Samuel is a reworking of the classic Humphrey Jennings documentary, A Diary for Timothy. Set in 1990, in and around Northfield House, the film looks at how the social and political events of that year (including the poll tax and the fall of Thatcher) shaped the world the filmmakers son was born into.
Beasts of the Southern Wild. Six-year-old Hushpuppy  lives with her father, Wink, in a remote Delta community. Wink is a stern taskmaster, but he is preparing his young daughter for the end of the world. When Wink falls mysteriously ill, nature seems to fall ill with him. Temperatures rise, the ice caps melt and fearsome prehistoric beasts called aurochs run loose. Rising waters threaten to engulf their community, sending Hushpuppy in search of her long-lost mother.
FREE BBQ & DRINKS. OUTDOOR SCREENING.
Film & BBQ in Emily & Toms Garden, entry from Frensham Street
About the venue: In 1980 residents began to improve the grounds of Northfield House, aiming to replace the biodiversity lost when the canal was filled in. The grounds are now listed as a Site of Importance for Nature Conservation.
Venue Capacity: 70