Share

Saturday 27th May 2017
Arrival
Free
(No ticket required - First come first served)
9:00PM (Doors open 7:30PM)
OUTDOOR:
Evelyn Grace Academy
Bring something to sit on and whatever you need to stay warm and dry
We've always thought that Zaha Hadid's Evelyn Grace Academy looks like it's come straight out of science fiction movie, so when we got the chance to screen there we couldn't think of a better film to start than Arrival. Not only does it mark our arrival at a new venue for 2017 (do you see what we did there?) but we also think it's one of the best sci-fi films we've seen in quite some time. With a Sterling prize-winning backdrop that nowhere else in London can match, join us to meet Abbott and Costello (you'll know what we mean when you see the film!) and take in the "dreamy, freaky and audacious" gravity-defying film that "skirts on the edge of absurdity".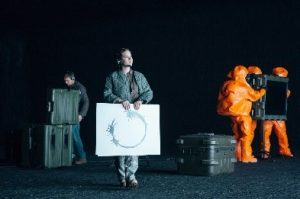 At its essence, Arrival is an alien invasion film with the invasion on pause; 12 mile-high question mark shaped ships appear above seemingly random points around the globe, including Devon for some reason, and then just hang there admiring the view. To work out why the aliens have arrived, and more importantly to understand any answer they might share, the US military enlists the support of Dr. Louise Banks (played by Amy Adams), an expert linguist, and theoretical physicist, Ian Donnelly (played by Jeremy Renner), to go inside one tomb-like vessel in rural Montana and chew the fat with the visitors. With mankind teetering on the verge of global war, Banks and Donnelly face a race against time decipher the aliens' complex calligraphy and, quite possibly, to save humanity. No pressure then.
Based on Story of Your Life, the 1998 sci-fi short story by Ted Chiang, and nominated for 8 Oscars (but winning only one, for Best Sound Editing), the Herne Hill Free Film Festival is excited to be bringing Arrival to the Evelyn Grace Academy on 27 May at 9pm. We caught this one on its release in the cinema but it's really a film that works best in the right setting, and outdoors, in Herne Hill (we think everything's better in Herne Hill), on a late May evening and with a Sterling prize winner as the backdrop is a pretty good effort we thought!
Click here to see the trailer.