Share

Wednesday 27th April 2022
Another Round
Free
(No ticket required - First come first served)
7:00PM
The peaks and perils of alcohol come under the spotlight in Thomas Vinterberg's black comedy about booze and its ability to dispel our inhibitions.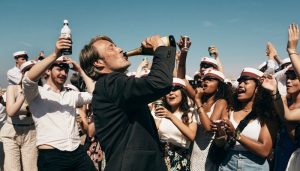 Four middle-aged teachers who have lost their lust for life agree they should test the theory that humans operate more successfully when they maintain a certain level of alcohol in their blood.
But things start to get out of hand when the amateur scientists decide to take the experiment further – with tragic consequences. Mads Mikkelsen stars as ring-leader Martin. The film won best international feature film at the Academy Awards and a BAFTA for best foreign language film.
The bar will be open…..