Share

Wednesday 11th September 2019
Albatross
Free
(No ticket required - First come first served)
8:30PM (Doors open 8PM)
INDOOR:
Veolia (UK) Ltd, Southwark Integrated Waste Management Facility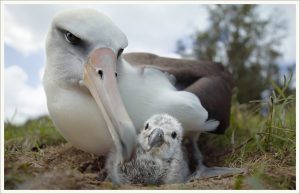 'In the heart of the great Pacific, a story is taking place that may change the way you see everything'.
Released in 2017, Albatross will be Screened on Wednesday 11 September, Recycling Discovery Centre 8.30pm, Doors 8pm.
The screening will be followed by a Q & A on plastic waste and recycling by Veolia.
Albatross is a powerfully moving love story that brings viewers together into a shared space of connection and reverence
The Story of ALBATROSS
'The Midway Project' a note from Chris Jordan
The journey of ALBATROSS began in 2008 as a collaboration with my friend, activist/photographer Manuel Maqueda. Studying the newly-emerging issue of ocean plastic pollution, we learned of a stunning environmental tragedy taking place on a tiny atoll in the center of the vast North Pacific Ocean.
We immediately began planning an expedition there, and on our first trip to Midway Island in September of 2009, we and our team photographed and filmed thousands of young albatrosses that lay dead on the ground, their stomachs filled with plastic.
The experience was devastating, not only for what it meant for the suffering of the birds, but also for what it reflected back to us about the destructive power of our culture of mass consumption, and humanity's damaged relationship with the living world.
ABOUT THE VENUE:
This state-of-the-art facility can process all of Southwark's household waste and recyclables helping to significantly improve recycling rates and reduce the impact that the borough's waste has on the environment.
This facility represents a key piece of waste infrastructure that sets the standard for the way waste is managed in the capital. It also enables us to divert the majority of Southwark's waste away from landfill.
The facility comprises of five major areas:
The Materials Recovery Facility sorts recyclables collected from households.
The Mechanical Biological Treatment facility turns black bag waste into a fuel for energy recovery.
The Reuse and Recycling Centre supports waste prevention through a variety of reuse schemes.
The Transfer Station provides a collection point for any materials that cannot be treated on site.
The Recycling Discovery Centre offers educational opportunities designed especially for primary school children.
VENUE CAPACITY: 60