Share

Saturday 10th September 2016
Afrikans on Film
Free
(No ticket required - First come first served)
12:00PM
INDOOR:
Bussey Building – Peckham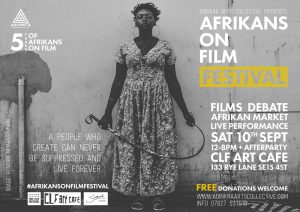 Afrikans on Film Festival (formerly known as Welcome to Busseywood), London's largest 1 day Afrikan film festival is BACK!
A unique opportunity to see films rarely seen on the big screen. A well attended festival noted for shining a light on the multilayered aspect of Afrikan filmmaking. It boasts informed discussions, workshops, a unique Afrikan craft market and great cultural food (vegan options available). With performance, poetry and story-telling thrown in for good measure. A true Afrikan experience that will tingle the senses, inform, insight and educate.
Curator/Founder – Orvil Kunga. Event coordinator/host – Vashti Henry.
www.adinkraartscollective.com (info 07827537519)
Free event. No booking needed. Arrive early to secure a seat.
Event finishes at 20:00
About the venue: The Bussey Building is an Edwardian reinforced concrete industrial structure, brick-clad with most of its decorative features on the side facing the railway tracks. It originally acted as advertising for Bussey and Co, the well-known sporting goods manufacturers. George Bussey was an eminent Victorian industrialist and entrepreneur. The factory made cricket bats from its own willow farm in Suffolk.