Share

Saturday 09th September 2017
Afrikans On Film
Free
(No ticket required - First come first served)
12:00PM
INDOOR:
CLF Cafe, The Bussey Building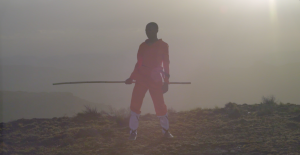 AFRIKANS ON FILM FESTIVAL (Formerly known as Welcome to Busseywood)
London's largest 1 day Afrikan film festival is BACK!
A unique opportunity to see films rarely seen on the big screen. A festival noted for shining a light on the multi-layered aspect of Afrikan filmmaking, Arikans on Film celebrates Afrikan creativity it all its forms. It boasts informed discussions, workshops, a unique Afrikan craft market and great cultural food (vegan options available). With performance from live music, poetry, theatre and story-telling thrown in for good measure, a true Afrikan experience that will tingle the senses, inform, insight and educate.
FREE event. No booking required. Arrive early to secure a seat.
VENUE CAPACITY: APPROX. 1000
Founder/Curator Orvil Kunga
Event Coordinator/Curator Vashti Henry
Website:         www.adinkraartscollective.com
Info:               info@adinkraartscollective.com
ABOUT THE VENUE:
The Chronic Love Foundation, the CLF Art Cafe AKA The Bussey Building is a 120 year old multi-level warehouse space, hosting leading events in music, theatre, film, anime, art, comedy and more. Grass roots to cutting edge, Bestival to Secret Sundaze, The South London Soul Train to The Royal Court Theatre, The Jungle Brothers to Adamski via MJ Cole and Roa + Phlegm Art Exhibitions – the list goes on and on and on. Best of all, the venue is down to earth without any pretension. From the smiling happy security at late night events, to the mirror free ever evolving large yet intimate interior, where different artists and promoters turn the venue into anything from an Alice in Wonderland Themed Forest to a spectacular 3D visually immersive space.
The Bussey Building is an Edwardian reinforced concrete industrial structure, brick-clad with most of its decorative features on the side facing the railway tracks. It originally acted as advertising for Bussey and Co, the well-known sporting goods manufacturers. George Bussey was an eminent Victorian industrialist and entrepreneur. The factory made cricket bats from its own willow farm in Suffolk.