Share

Friday 28th April 2017
The Adventures of Priscilla, Queen of the Desert – plus DJs until 1am.
Free
(No ticket required - First come first served)
8:00PM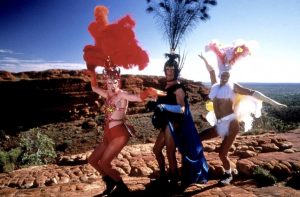 Two drag-queens and a transgender woman are hired to perform at a drag show in Alice Springs in the remote Australian desert.
The film follows their journey as they Go West from Sydney on board their purple tour bus, named Priscilla, Queen of the Desert.
A brash, funny and at the same time thoughtful and melancholic film. Priscilla was a huge, surprise global hit that caused a near riot at the Cannes Film Festival and won an Academy Award®. It's fun, daring, over-the-top and unforgettable. It's a road movie with attitude, feather headdresses and the occasional frock!
Join us upstairs at the Brookmill Pub as we create a cabaret party fit for the likes of Mitzi Del Bra, Bernadette Bassinger and Felicia Jollygoodfellow. Divas to the dance floor… please! After the film we'll be dancing along to hits from the soundtrack plus other fabulous disco treats from the 70s and 80s.
Bring your feather boa – dress to impress.