Share

Sunday 07th May 2017
Adventure Film Night: Bear Island + Short Films
Free
(No ticket required - First come first served)
8:00PM (Doors open 7:15PM)
INDOOR:
Prince Regent Pub
After a capacity crowd in 2016 we decided to host a second Herne Hill Adventure Film Night in 2017 headlined by Bear Island, the followup to one of our favourite films from last year's programme, North of the Sun. Embracing the adventure theme we're also going to be showing a number of short films about, you guessed it, things adventurous. If the night's anything like last year come down to The Prince Regent on 7 May at 8pm if you want to get turned away, and earlier of you want any chance of a seat (or even a square inch of standing space)!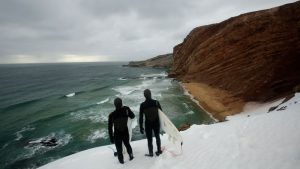 Bear Mountain tells the story of three brothers in search of the perfect wave in the Barents Sea, traveling on cross country skis, each with a sled in tow with a surfboard perched atop. Despite snow whipping them as they prepare they manage to hit the virgin waves where no one has surfed before. Well two of them at least. The third has to stand guard with a rifle should Bear Island's natural predator, the Polar Bear, emerge.
As the adventure film night was one of the highlights of our 2016 festival, this night has been in the 2017 programme since June 2016, and when we heard we would be featuring the sequel to North of the Sun (which went down so well with last year's capacity crowd) we almost couldn't control our excitement. So come down to The Prince Regent on 7 May at 8pm to calm us down and watch three brothers catch some waves in the cold. To make a night of it like last year, we're also going to be screening a number of adventurous short films to warm up the audience before the main feature. So do whatever you have to do to get there early, you won't be disappointed!
Click here to watch the Bear Island trailer.