Share

Thursday 04th May 2017
Adult Life Skills
Free
(No ticket required - First come first served)
8:00PM (Doors open 7:15PM)
INDOOR:
Prince Regent Pub
While you would not be wrong in calling Adult Life Skills a playful drama about a woman who lives in a shed you'd be missing out on a lot of what makes Rachel Tunnard's directorial debut so great. Based on a short-film the Herne Hill Free Film Festival screened in 2016 (called Emotional Fusebox, we loved it!) the film tackles weighty themes with a light and often humorous touch. Although we originally scheduled this screening for one of Herne Hill's finest sheds, we decided to upgrade the venue at the last minute so come on down to The Prince Regent on 4 May at 8pm for shed-less night with this oddball Britflick. The film's producer will be coming down for the screening and a Q&A so make sure you're on your best behaviour!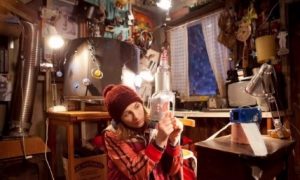 Anna is approaching 30, living like a hermit in her mum's garden shed and wondering why the suffragettes ever bothered. She spends her days making videos using her thumbs as actors – thumbs that bicker about things like whether Yogi Bear is a moral or existential nihilist. But Anna doesn't show these videos to anyone and no one knows what they are for. A week before her birthday her Mum serves her an ultimatum – she needs to move out of the shed, get a haircut that doesn't put her gender in question and stop dressing like a homeless teenager. Naturally, Anna tells her Mum to "back the f-off". However, when her school friend comes to visit, Anna's self-imposed isolation becomes impossible to maintain. Soon she is entangled with a troubled eight year old boy obsessed with Westerns, and the local estate agent whose awkward interpersonal skills continually undermine his attempts to seduce her.
The Herne Hill Free Film Festival will be bringing Adult Life Skills out of the shed and into The Prince Regent on 4 May at 8pm for a night we've been looking forward to ever since we saw Emotional Fusebox, the short-film the feature length film is based on, back in 2016. This is another screening that draws on the depth of local talent in South London and we're lucky to have the film's producer joining us on the night for the screening and a Q&A at the end. Given how excited we were for this night back in 2016, we can't even begin describe how we're feeling about it now…
Click here to see the trailer.