Share

Saturday 18th May 2019
A Quiet Place
Free
(No ticket required - First come first served)
9:00PM (Doors open 7:30PM)
OUTDOOR:
Brockwell Lido – Herne Hill
Bring something to sit on and whatever you need to stay warm and dry
The apocalypse has happened. Giant reptiles stalk the land, preying on humans. The good news is they can't see you. The bad news is they can hear the slightest sound you make. So to stay safe, you have to stay completely silent.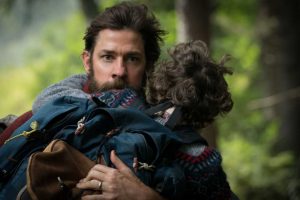 "If they hear you, they hunt you." A world without sound, where a scream, even a whisper, can be fatal. That's the premise of John Krasinski's 2018 sci-fi suspense thriller, centred around a couple who try to live, and keep their young family safe, in a devastated and dangerous world. Their daughter Regan has a hearing impairment – an advantage, in its own way, in a world where it's so dangerous to speak. The whole family have to learn sign language to communicate in safety. The mother is pregnant. They have no anaesthetic. Can she give birth without screaming?
Stephen King said of A Quiet Place that it "is an extraordinary piece of work. Terrific acting, but the main thing is the SILENCE, and how it makes the camera's eye open wide in a way few movies manage". Real life couple John Krasinski and Emily Blunt play the lead characters in this tightly knit, intense, and utterly gripping 90 minutes of suspense.
We always look forward to our outdoor screenings beside the pool at the Brockwell Lido, one of Herne Hill's most iconic venues, and we're especially excited for this year's screening – though we're trying to keep quiet about it…
See the trailer here!

As part of this year's Herne Hill Free Film Festival we are excited to be partnering with the Maudsley Charity, to help them promote positive change in the world of mental health and to make a real difference to the treatment of mental health in our area. We will be collecting donations at each of our screenings to support their local activities, so if you can, any money that you can spare would be greatly appreciated to help this wonderful charity continue the admirable work they do.