Share

Sunday 03rd April 2016
A Pigeon Sat On a Branch Reflecting On Existence
Free
(No ticket required - First come first served)
4:00PM
INDOOR:
The Pigeon Hole Café – Camberwell
Sam and Jonathan, a pair of hapless travelling salesman selling novelties embark upon a tour of the human condition via 39 absurdist vignettes which blur the lines between fantasy and reality that examine and spotlight the absurdity of ordinary life.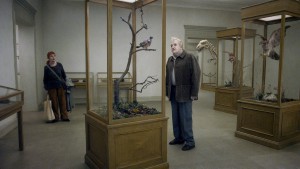 Through a series of pristinely structured sketches, with intensely long takes, A Pigeon Sat on a Branch is the third part of writer-director Roy Andersson's "Living trilogy" (which includes Songs from the Second Floor, You, The Living). Imagine the absurdist wit of Monty Python with the cynic's outlook and dark humour of Brass Eye reflecting the state of humanity back at us through the screen. There is no plot necessary here, just sketch after sketch filmed with total commitment and confidence. The point being, life is ridiculous and amidst its cruel visions or touching little moments – when does it ever make sense? Roy Andersson seems certain that life doesn't, and he's made the one of the loveliest, loopiest statements to that effect.