Share

Wednesday 29th May 2019
A Matter of Life and Death
Free
(No ticket required - First come first served)
7:30PM (Doors open 6:45PM)
INDOOR:
Herne Hill Baptist Church
WW2 RAF pilot Peter Carter should have died that night. As his burnt up Lancaster bomber plummeted to its end over the English Channel, the rest of the crew had either bailed or died and with a broken parachute he had no chance of survival. He radioed into June, an American operator, with his final status. Perhaps they had fallen in love during that brief conversation? And then in a dashing gesture, he jumped from his plane to his certain death.
But he didn't die…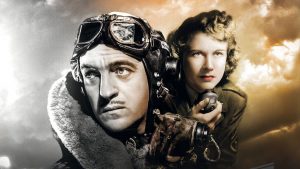 And that may sound like a spoiler but it's just the start of this classic Powell and Pressburger fantasy-romance starring David Niven and Kim Hunter. It's just as relevant today with its themes of love, death, the afterlife and Anglo-American relations, as it was in 1946 when the film was first released and tapped into so many people's experience of lost loved ones during the war.
'This is a story of two Worlds, the one we know and another which exists only in the mind of a young airman whose life and imagination have been violently shaped by war… Any resemblance to any other world known or unknown is purely coincidental.'
See the trailer here!

As part of this year's Herne Hill Free Film Festival we are excited to be partnering with the Maudsley Charity, to help them promote positive change in the world of mental health and to make a real difference to the treatment of mental health in our area. We will be collecting donations at each of our screenings to support their local activities, so if you can, any money that you can spare would be greatly appreciated to help this wonderful charity continue the admirable work they do.