Share

Thursday 07th April 2016
A Girl Walks Home Alone at Night
Free
(No ticket required - First come first served)
9:00PM (Doors open 8pm)
INDOOR:
St Giles Church – Camberwell
In the Iranian ghost-town Bad City, a place that reeks of death and loneliness the townsfolk are completely unaware they are being stalked by a lonesome vampire.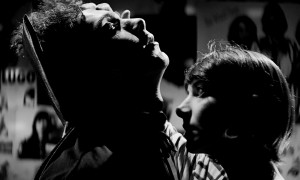 Strange things are afoot in Bad City. The Iranian ghost town – home to prostitutes, junkies, pimps and other sordid souls – is a place that reeks of death and hopelessness, where a lonely vampire is stalking the town's most unsavoury inhabitants. But when boy meets girl, an unusual love story begins to blossom in blood red, in this exciting and unique new take on the vampire genre.
Iranian-American film director Ana Lily Amirpour, weaves an innovative and enthralling tale teeming with originality and beauty for her killer feature debut. With a film-noir feel and stylish aesthetic, and featuring powerful lead performances by Shelia Vand as 'The Girl', Mozhan Marnò as the prostitute Atti and Arash Marandi as hipster Arash.