Share

Tuesday 08th September 2020
1500 and Counting + Q&A (15)
Tickets are required for this event - see below
8:00PM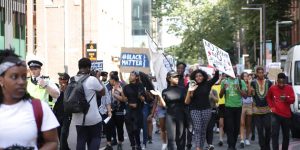 Peckham and Nunhead Free Film Festival presents: 1500 and Counting + Q&A (15) – A Films for Food screening.
Produced by writer, producer and community organiser, Siana Bangura and directed by award-winning filmmaker, Troy James, 1500 and Counting is an independent documentary film investigating police brutality and deaths in custody in the UK since 1990.
The film was officially released in May 2019 and is now embarking on a virtual series of screenings between July and August in response to the Black Lives Matter climate as well as the need to adapt to a pandemic context of sharing work and staying connected.
(Text © 1500 and Counting Press Release)
Films for Food Screening – as we cannot bring food for Southwark Foodbank (Pecan), for this online screening, here are details about donating: www.pecan.org.uk/donate
Tickets are free and can be booked via eventbrite
You are welcome to join us on zoom for a Q&A session. The zoom link will be given to you on email from eventbrite.
peckhamfreefilmfestival | freefilmfest | _pnfff | YouTube | pnfff@freefilmfestivals.org