Share

Wednesday 26th April 2017
13th
Free
(No ticket required - First come first served)
7:30PM
INDOOR:
New Cross Learning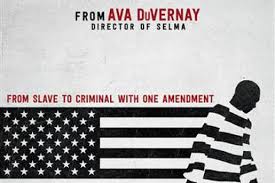 The 13th Amendment to the United States Constitution abolished slavery and involuntary servitude.
Except as punishment for a crime.
In the Oscar-nominated documentary 13th , director Ava DuVernay (Selma) lays out in clear detail the historical legacy of that amendment,
"drawing a defined through-line from the abolition of slavery, through the chain gang labour that replaced it, through segregation and the
mythology of black criminality, to the war on crime and the war on drugs to the rise in mass incarceration and the big business of prisons."
(Wendy Ide, The Guardian).
For this film, DuVernay conducted all 46 interviews herself, with several prominent activists, academics, politicians from "both sides of the aisle," and public figures, such as Angela Davis, Bryan Stevenson, Van Jones, Newt Gingrich, Cory Booker, Henry Louis Gates Jr., and others.