Share

Friday 07th April 2017
127 Hours [15]
Free
(No ticket required - First come first served)
7:30PM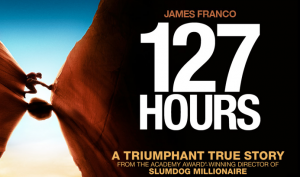 Aron Ralston, the hero of "127 Hours" had an oops moment. That's even what he calls it. He went hiking in the wilderness without telling anyone where he was going, and then in a deep, narrow crevice, got his forearm trapped between a boulder and the canyon wall. Oops!
Turned into a compulsively watchable multiple BAFTA and Oscar nominated film, "127 Hours" is like an exercise in conquering the unfilmable. Danny Boyle uses magnificent cinematography by Anthony Dod Mantle and Enrique Chediak, establishing the vastness of the Utah wilderness, and the very specific details of Ralston's small portion of it.
As with all our events during the festival, admission is free!