Share

Sunday 30th April 2017
Untold Stories (Punks for West Papua and Marikana: Precious Metal)
Free
(No ticket required - First come first served)
8:00PM (Doors open 7:15PM)
On 30 April from 8pm the Herne Hill Free Film Festival is hosting its Untold Stories evening at effraspace. With two films about unconnected tragedies thousands of miles apart, we want to make Herne Hill residents aware of major events that don't get the coverage they deserve; it might come as a surprise but our Facebook feeds may not be the best way to keep us abreast of the issues we need to know about. We are grateful to The United Liberation Movement of West Papua who will attend the screening and participate in a Q&A after the evening's films. All donations from the event will go to their campaign and we thank you in advance for your generous support.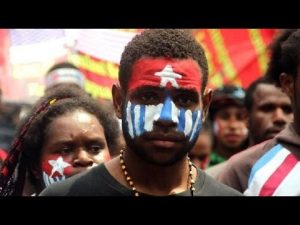 Punks for West Papua (46 mins)
Created by Ash Brennan and narrated by Basia Bonkowski, this short film tells the story of the Australian punk scene's fight against Indonesian oppression of West Papua, in which Indonesia receives support from the Australian government. Jody Bartolo of Sydney punk band Diggers with Attitude turns a fundraising event into an Australia wide benefit involving over 50 bands in 7 cities around the country, making Punks For West Papua the biggest, and no doubt, loudest punk rock showcase in Australia's history. The documentary has been picking up awards around the world, including the Hollywood International Independent Documentary Awards and IndieFest San Diego. For more information on the punks' fight please visit www.punks4westpapua.com.
Marikana: Precious Metal (23 mins)
A year after the Marikana massacre, where South African police opened fire and killed 34 striking miners, the women of the Wonderkop settlement decide to stage a musical play of the event.  Led by the charismatic and inspirational Primrose they struggle against forgetting and struggle for justice, in the face of ongoing violence between rival unions and the mining company Lonmin which is focused on business as usual.
Click here to see the trailer.