Share

Friday 11th March 2016
Triplettes de Belleville – with live soundtrack
Free
(No ticket required - First come first served)
7:00PM
INDOOR:
Djam Lecture Theatre – SOAS
Les Triplettes de Belleville is a seminal piece of animation, which for this screening will have a live music soundtrack from Cabinet of Living Cinema.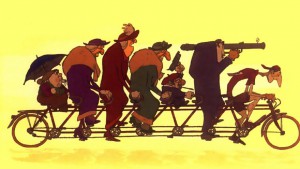 Live soundtrack will be provided by The Cabinet of Living Cinema, a meeting of artists dedicated to creating 'performance cinema'. Orchestral instruments are used to create a range of bizarre sound effects as well as toys and other found objects to capture the dark and humorous atmosphere of the film.
Les Triplettes de Belleville follows the story of Madame Souza and her beloved pooch Bruno, who team up with aged song-and-dance troupe The Belleville Sisters to rescue her grandson who is kidnapped during the Tour de France. An unforgettable and beautifully animated adventure.
Followed by live music in the nearby JCR (more details to follow).