Share

Saturday 05th May 2018
The Love Witch
Free
(No ticket required - First come first served)
4:30PM
INDOOR:
Deptford Does Art
She Loved Men… To Death.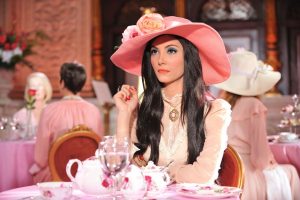 Inspired by Hollywood melodrama, Technicolor and exploitation movies, The Love Witch is a campy, colourful tale about a witch looking to find love after the mysterious death of her husband.
Young, beautiful and new in town, it doesn't take long for Elaine (Samantha Robinson) to entice a handsome man into her life. However, her love spells are more powerful than she anticipated, and her relationships don't turn out quite as she had planned.
The film's director, Anna Biller, who was also the film's writer, editor, set designer and costume-maker, is an artist in her own right, making the intimate gallery setting of Deptford Does Art the perfect place to enjoy this sensual and spellbinding film.
All are welcome to join us afterwards for a witches' brew at the Deptford Does Art bar. Blessed be!
Doors open 4pm. Film starts 4.30pm