Share

Wednesday 23rd May 2018
The Good, The Bad, The Weird
Free
(No ticket required - First come first served)
9:00PM (Doors open 8:00PM)
Set in Manchuria in the 1930s, The Good, the Bad, the Weird is Kim Jee-woon's Eastern Western. Director and writer Kim Jee-woon is known for A tale of Two Sisters (a horror) and A Bittersweet Life (a thriller) but here takes on a genre not previously associated with South Korean films. Using the spaghetti Western as his starting point he throws in a dose of Mad Max and Indiana Jones.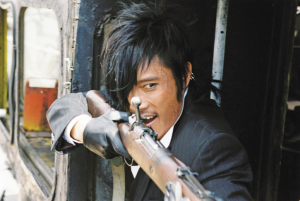 A stolen map leads to a nonstop pursuit of and by the three main characters, bandit gangs, independence fighters and the occupying Japanese army in a race to find the buried treasure.
'The Bad' is a a bandit and hitman hired to steal the map from a Japanese official and 'the Good' is a bounty hunter. 'The Weird' is a thief who manages to steal the map first and is played by Song Kang-ho who humourously counterbalances the nonstop action and violence.
Superb cinematography keeps you face to face with the constant movement of the characters encouraged by the musical score.
Intrigued? See you at Canopy!
Click here to see the trailer!
As part of this year's Herne Hill Free Film Festival we are excited to be partnering with the Norwood and Brixton Food Bank, helping to raise awareness for this most worthy of local causes. We will be collecting food donations and spare change at each of our screenings so, if you can, any food or money that you can spare would be greatly appreciated to help this wonderful charity continue the admirable work they do in the local area. We will be tweeting information about urgently needed items so stay tuned on Twitter to @HerneHillFilm.