Share

Friday 07th September 2018
The Funhouse
Free
(No ticket required - First come first served)
8:00PM (Doors open 7.30pm)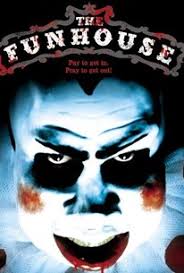 VENUE CAPACITY: 40
 There's something alive in The Funhouse… and also at Safehouse 1, 139 Copeland Road, London SE15 3SN onFriday 7th September, 8pm with this free screening of horror great Tobe Hooper's stylish, suspenseful and gruesome slice of early 1980s horror. Hooper skillfully heightens expectations and nicely evokes the chillers of a bygone era as the film pays respects to Alfred Hitchcock and James Whale.
Courtesy of Maverick Projects, the unique setting in this old derelict house will perfectly add to the experience of watching this sly vision of  middle-America gone sour. Make sure you come along for the ride…
 Free event. No booking needed. Arrive early to secure a seat.
ABOUT THE VENUE: Maverick Projects is an arts organisation in Peckham that offers unique locations for art exhibitions, theatre, events, filming and photography shoots.