Share

Friday 09th September 2016
That Side
Free
(No ticket required - First come first served)
7:00PM (Doors open 18:45)
INDOOR:
Peckham Plex Cinema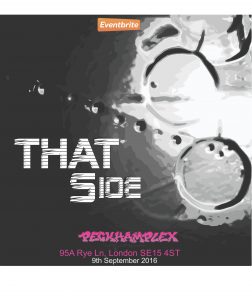 Welcome to Peckham. Welcome to our world. Welcome to THAT SIDE.
The hard hitting sounds from the dark side of London will come crashing down at PeckhamPlex on Friday 9th September, 7pm with live visual and sonic performances from unsigned young artists of the Grime, UK Hip-hop and spoken word scene and many more talented individuals!
The evening opens with Ewan Spencer's 2014 short documentary, Open Mic, which explores the origins of Grime; born from new expressions of musical and youth identity. It follows an emerging youth subculture from its humble beginnings to its meteoric rise and eventual stagnation.
THAT SIDE is an event that will take you on an inventive adrenaline pumped journey of what happened when a new generation took control.
Buckle up for a free event, but book online to ensure you have a seat!!!
Venue Capacity: 200