Share

Sunday 10th April 2016
Tangerine
Free
(No ticket required - First come first served)
8:00PM (Doors open 7PM)
INDOOR:
The Flying Dutchman – Camberwell

On Christmas Eve, trans gender woman sex worker Sin-Dee Rella, who has just finished a twenty-eight day prison sentence, meats her best friend Alexandra at Donut Time in Hollywood.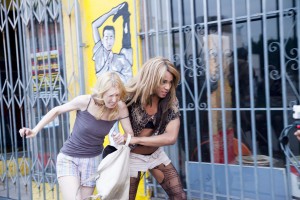 Alexandra informs Sin-Dee that her boyfriend and pimp Chester has been cheating on her with a white woman, Dinah. Outraged, Sin-Dee storms out of the diner to search the neighbourhood for Chester and Dinah and the "Fish" he has been sleeping with. As Sin-Dee searches and Alexandra prepares for her stage show in West Hollywood, Razmik, an Armenian cab driver, drives clients around Los Angeles to raise money for the girls' company under the nose of his suspecting family. Everything an entertaining, old-fashioned, mainstream Hollywood comedy should and used to be but no longer is.
This is an extraordinary, non-judgmental film shot largely on an iPhone 5s with a $7.99 app and a miniscule budget.