Share

Tuesday 18th October 2016
Stormy Weather (Black History Month)
Free
(No ticket required - First come first served)
6:30PM
INDOOR:
Hill Station Cafe
The relationship between an aspiring dancer and a popular songstress with a star studded cast including Lena Horne, Bill Robinson Cab Calloway, Fats Waller and the wonderful Tap Dancing Nicholas Brothers.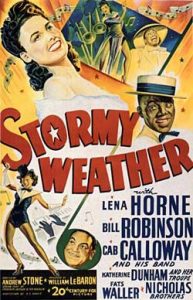 Stormy Weather showcases some of the top African-American performers of the time, during an era when African-American actors and singers rarely appeared in lead roles in mainstream movies, especially those of the musical genre.
The film is based on the life and times of its star, dancer Bill "Bojangles" Robinson. Robinson plays Bill Williamson, a talented dancer who returns home in 1918 after fighting in World War I and tries to pursue a career as a performer. Along the way, he approaches a beautiful singer named Selina Rogers, played by Lena Horne.
Seats 40. First Come first served
Bar and refreshments. Ice cream and Popcorn
Suggested dontation £2