Share

Tuesday 17th May 2016
Koyaanisqatsi + Stop Making Sense
Free
(No ticket required - First come first served)
7:30PM (Doors open 7pm, come early for a good seat!)
INDOOR:
Off the Cuff Bar – Herne Hill
Koyaanisqatsi (film starts at 7.30pm)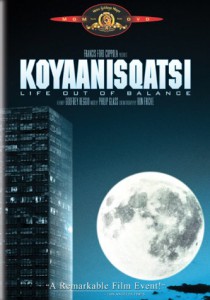 In the Hopi language, the word Koyaanisqatsi means "unbalanced life".
The film depicts different aspects of the relationship between humans, nature, and technology. Film starts at 7.30pm.
Director Godfrey Reggio, Certificate U, running time 1 hour 26 mins.
Stop Making Sense (film starts at 9.15pm)
An innovative concert movie for the new wave group The Talking Heads.
David Byrne walks onto the stage and does a solo "Psycho Killer." Jerry Harrison, Tina Weymouth and Chris Frantz join him for two more songs. The crew is busy, still setting up. Then, three more musicians and two back-up singers join the band. Everybody sings, plays, harmonizes, dances, and runs. They change instruments and clothes. Bryne appears in the Big Suit. The backdrop is often black, but sometimes it displays words, images, or children's drawings. The band cooks for 18 songs, the lyrics are clear, the house rocks. In this concert film, the Talking Heads hardly talk, don't stop, and always make sense.