Share

Sunday 19th May 2019
Silent Running
Free
(No ticket required - First come first served)
9:00PM (Doors open 7:30PM)
OUTDOOR:
Brockwell Park Community Greenhouses
Bring something to sit on and whatever you need to stay warm and dry
The Brockwell Park Community Greenhouses provide a perfect backdrop for this post-apocalyptic sci-fi starring Bruce Dern as the original eco-warrior. Originally released in 1972 with critical although not commercial success, its prophetic environmental message rings more true today than ever before, making it a cult classic.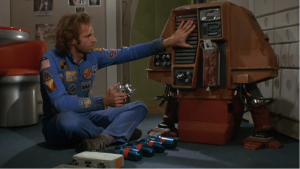 In the not so distant future, Earth has become barren of its flora and fauna. A selection of plants have been preserved and cultivated in giant geodesic greenhouse-like domes attached to a fleet of spacecraft with the plan of returning them to Earth one day. When the crew are instructed to abandon their mission and destroy their cargo, botanist Freeman Lowell, plans a mutiny to save the plants he has cared for so passionately.
The Greenhouses will also be selling botanical cocktails made with fresh herbs grown on site!
See the trailer here!

As part of this year's Herne Hill Free Film Festival we are excited to be partnering with the Maudsley Charity, to help them promote positive change in the world of mental health and to make a real difference to the treatment of mental health in our area. We will be collecting donations at each of our screenings to support their local activities, so if you can, any money that you can spare would be greatly appreciated to help this wonderful charity continue the admirable work they do.