Share

Monday 04th September 2017
Shadow World + Q&A
Free
(No ticket required - First come first served)
8:00PM (Doors open 7PM)
INDOOR:
The Montague Arms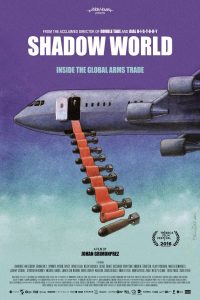 Shadow World
Monday 4 September 8pm
Montague Arms, 289 Queens Road SE15 2PA
Based on the book, The Shadow World, this feature-length documentary reveals the shocking realities of the multi-billion dollar global arms trade.
There will be a Q&A after the screening with the writer, Andrew Feinstein, who will be interviewed by John Pandit.
PNFFF and Films for Food have organised this as a FREE screening, but please bring a non-perishable food donation on the night for Peckham Food Bank.
VENUE CAPACITY: APPROX. 150.
ABOUT THE VENUE:
Brew pub decorated with quirky vintage items, offering craft beers, real ales and a pie menu.