Share

Wednesday 27th April 2016
Pride
Free
(No ticket required - First come first served)
7:00PM
INDOOR:
New Cross Learning
"A story with something to say about our world that is also shamelessly entertaining, moving and funny" (Time Out), Pride is based on the true story of how two under-threat and marginalised groups formed an unlikely alliance in the 1980s to support each other in their fights for equality.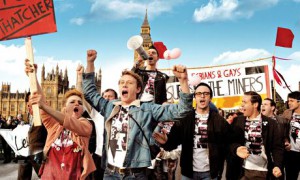 In the current political climate, Pride's message of solidarity among campaign groups is a potent reminder of what is possible when we support each other.
It's Everybody's Fight – There is Power In A Union
The screening will be followed by a discussion focusing on solidarity between unions and campaign groups, alongside issues surrounding the Trade Union Bill and current industrial action.
The discussion panel will include Mike Jackson, a founding member of LGSM and one of the main protagonists of the film, as well as representatives from the Trade Unions Congress (TUC) and the British Medical Association (BMA).