Share

Friday 18th May 2018
Paddington 2
Free
(No ticket required - First come first served)
7:30PM (Doors open 7:00PM)
INDOOR:
Rosendale Primary School – Herne Hill
If you were concerned that Paddington 2 couldn't top the original then rest assured. This wonderful sequel has even more of the feel-good moments, slapstick humour and incredible roll call of British actors for you to enjoy.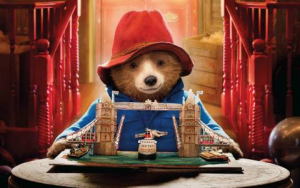 In this film, Paddington Bear is happily settled with the Brown family, and a popular member of the community who spreads joy and marmalade wherever he goes. One day he spots a pop-up book in Gruber's antique shop – the perfect present for his beloved Aunt Lucy's 100th birthday – and resolves to save the money in order to buy it for her.
Paddington is prepared to turn his paw to any job, which takes us on an entertaining romp through his unbelievably picturesque London neighbourhood. As you would expect, plenty of marmalade-based mishaps ensue. But while Paddington is trying to secure the precious book through honest means, a thief steals it and he embarks on an epic quest to unmask the culprit before Aunt Lucy's big celebration. Pay attention during the intro of the film and you'll see how the Brown Family each have their role to play in the tense final scenes.
The two Paddington films have fast become classics, entertaining children and adults alike. This is going to be a popular screening in this year's festival, kindly sponsored by Apple Tree Children's Café.
Click here to see the trailer!
As part of this year's Herne Hill Free Film Festival we are excited to be partnering with the Norwood and Brixton Food Bank, helping to raise awareness for this most worthy of local causes. We will be collecting food donations and spare change at each of our screenings so, if you can, any food or money that you can spare would be greatly appreciated to help this wonderful charity continue the admirable work they do in the local area. We will be tweeting information about urgently needed items so stay tuned on Twitter to @HerneHillFilm.