Share

Monday 19th December 2016
Nightmare Before Christmas
Free
(No ticket required - First come first served)
8:00PM
INDOOR:
Prince Regent Pub
Jack Skellington, the pumpkin king, is tired of Halloweentown. When he stumbles upon Christmas Town he wants to share his discovery with his friends back home, and ultimately try to take over Christmas. Come to The Prince Regent on Monday 19th December at 20:00 to see how Jack's alternative Christmas goes down.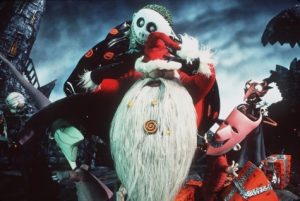 Originating as a poem written by Tim Burton in 1982 while he was working as an animator at Walt Disney Feature Animation, Nightmare Before Christmas centres on Jack Skellington, the pumpkin king of Halloweentown. Bored of Halloween Jack saunters off into the woods with his dog Zero after Halloween night and discovers a clearing of trees with different doors representing various holidays. The Christmas Tree door attracts his attention and upon entrance into the world of Christmas, Jack is fascinated with this new idea of Christmas that he must absolutely share with the citizens of Halloweentown. They fail to grasp his meaning and compare everything to their ideas of Halloween. This dismay's Jack and he obsessively studies the holiday but fails to find any further explanation of it. He ultimately decides that it's unfair for Christmas Town alone to enjoy the feeling and announces that he and the citizens of Halloween Town will take over Christmas this year.
Come and see Jack's and the residents of Haloweentown's adventures at The Prince Regent on Monday 19th December at 20:00. It may have been too scary for Disney to release it under its name, but it's certainly not too scary for Herne Hill.
Here's the trailer  if you want to take a look…