Share

Thursday 07th September 2017
A Man Called Ove
Free
(No ticket required - First come first served)
8:00PM (Doors open 7.30PM)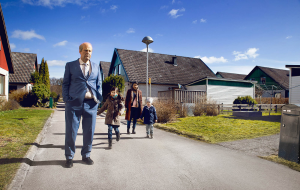 We are very excited to announce that as part of the Peckham & Nunhead Free Film Festival, Rye Books will be screening 'A Man Called Ove'. The film was written and directed by Hannes Holm, and is based on author Fredrik Backman's 2012 book of the same name.
Ove (Rolf Lassgård) is the quintessential angry old man next door. An isolated retiree with strict principles and a short fuse, who spends his days enforcing block association rules that only he cares about and visiting his wife's grave, Ove has given up on life. After a boisterous young family moves in next door and accidentally flattens Ove's mailbox, an unlikely friendship forms.
The screening will be outside the shop (we project onto the side of our van). We'll have seating but please bring a blanket or a cushion if you need one.
Plus there's a chance to win a copy of the film and book with our Swedish raffle, a great gift or present to yourself!
We'll also be distributing a free Swedish biscuit made by the brilliant local bakers @southeastcakery !
Hope to see you there!
VENUE CAPACITY: 60
ABOUT THE VENUE:
Cafe bookshop with new & used books of all kinds. Events include author readings, film nights, children's story-time and Bea's Baby Bop. Next day ordering, free local delivery & gift wrapping service.
Mon–Sat: 10.00–18.00
Sun & Bank Hol: 11.00–17.00
45 Upland Rd, SE22 9EF, 020 3581 1850