Share

Tuesday 26th April 2016
Macbeth
Free
(No ticket required - First come first served)
7:30PM (Doors open 7.00pm)
INDOOR:
St Nicholas' Church
Savour the grit and dramatic intensity of Polanski's Macbeth in the atmospheric surroundings of St Nicholas' Church in Deptford.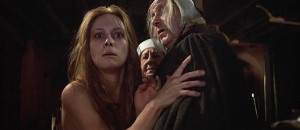 Jon Finch and Francesca Annis give performances charged with fury and sex appeal as a decorated warrior rising through the ranks and his driven wife, scheming together to take the throne by any means. Co-adapted by Polanski and the great theatre critic Kenneth Tynan, and shot against a series of stunning, stark British Isle landscapes, this version of Macbeth is among the most atmospheric and authentic of all Shakespeare films.
Bar/refreshments.

To mark the 400th anniversary of William Shakespeare's death we are screening several bard-related films. Look out for this symbol on our event pages.