Share

Thursday 05th May 2016
Le Havre + talk by Play4Calais
Free
(No ticket required - First come first served)
7:30PM
INDOOR:
Prince Regent Pub
We are pleased to present Le Havre, in collaboration with Play4Calais. The latest film by Aki Kaurismäki is a heart-warming comedy about an African immigrant who arrives by cargo ship in the port town of Le Havre and is taken in by an ageing shoe shiner.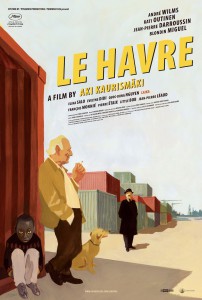 Marcel Marx, a former bohemian and struggling author, has given up his literary ambitions and relocated to the port city Le Havre. He leads a simple life based around his wife Arletty, his favourite bar and his not too profitable profession as a shoe shiner. As Arletty suddenly becomes seriously ill, Marcel's path crosses with an underage illegal immigrant from Africa. Marcel, his friendly neighbours and other townspeople help to hide him from the police. The police inspector may, or may not, be hot on their heels. Le Havre was critically adored when it was released in 2012 and was described by Peter Bradshaw in the Guardian as "seductively funny… but with a new heartfelt urgency on the subject of northern Europe's attitude to desperate refugees from the developing world."
Play4Calais will introduce this screening with a brief presentation on the conditions facing refugees arriving in Calais. PLAY 4 CALAIS brings pop-up cinema and play-time to the 600+ children and 6000+ adults living in The Jungle in Calais. With little to do and tensions high, refugees are desperate for respite care and community building activities to take part in. A few brief hours of film screenings and play-time helps people take their minds off the pain and trauma they've already experienced, and often continue experiencing at the hands of the European authorities.
All donations from this screening will go to Play4Calais so please bring as much change as you can give.