Share

Friday 05th May 2017
Imitation of Life
Free
(No ticket required - First come first served)
7:00PM (Doors open 6:30PM)
INDOOR:
Holy Trinity Church
Despite receiving a luke-warm reception from the critics on its release in 1959, Imitation of Life is now widely regarded as one of the masterpieces of 1950s cinema which since 2015 has been preserved in the United States' Library of Congress as a "culturally, historically and aesthetically significant" film. Douglas Sirk's last film from Hollywood deals with issues of race, class, gender and identity – themes which remain relevant to all of us today – and you can watch it as part of the Herne Hill Free Film Festival at 7:30pm on 5 May at Holy Trinity Church. After the screening we will be holding a discussion of the important themes raised in this film, and we would love it if as many people as possible came along and joined in!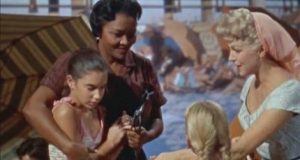 Made shortly after the birth of the US Civil Rights movement (and only 4 years after the Montgomery bus boycott in 1955) Imitation of Life follows the relationship between two single mothers, both widows, one white and one black, and the challenges they and their similarly aged daughters face as they venture out into the world around them in 1950s America.
Lora Meredith is an aspiring actress who takes in Annie Johnston as her housekeeper after a chance meeting at a beach when Lora's daughter goes missing. Not just the nanny to Lora's daughter and her live-in housekeeper, Annie also becomes a personal intimate and a professional colleague as Lora's career takes off. At the same time Annie has to deal with Sarah Jane, her own daughter, who is struggling with her African-American identity.
Although derided as a "soap opera" on its release in 1959 the film was a success at the box office and its critical reception has improved with age. Dealing with broken homes and complex class, race and gender relationships, Imitation of Life is regarded as the jewel in Douglas Sirk's directing crown. As his last Hollywood film it certainly marks an appropriate end to his celebrated career.
Join us at Holy Trinity Church on 5 May at 7:30pm for this masterpiece of 1950s cinema. We will be holding a discussion of the key themes raised in the film after the screening, and we would love it if as many people as possible came along and joined in!
Click here to see the trailer.